Nov. 22, 2016
Hospital de Loulé invests in innovative therapies in cancer treatment
"Immunotherapy is the future," declares Dr. André Cruz, a cancer specialist at Hospital de Loulé. "A tumour in its advanced stage can suppress the immune system," he continues. "And immunotherapy acts to unblock the suppression of cells caused by the tumour, reactivating the immune system. These treatments are directed not at the cancer, but at our immune system, which is our main weapon against the tumour."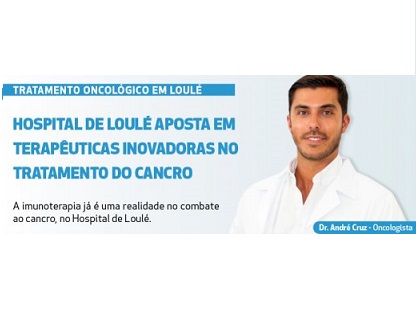 Immunotherapy is already available at Hospital de Loulé to treat, for now, melanoma, lung cancer – one of the most prevalent types of cancer – and kidney cancer. "Where has been tested and approved – for lung and kidney tumours and melanoma – it is more effective that chemotherapy and less toxic to the body," Dr. Cruz stresses. "We expect it to be indicated and approved to treat other tumours in the near future."
Greater effectiveness with fewer side effects
In the last decade there have been remarkable advances in the clinical treatment of cancer. "As well as chemotherapy, clinics and patients now have available to them more innovative and less aggressive treatments– hormone therapy, targeted biological therapy, immunotherapy – that achieve better results in terms of survival and, no less important, of quality of life," the specialist says.
At Hospital de Loulé it takes about an hour for patients to receive intravenous immunotherapy, under medical supervision and monitored by nursing staff. Among the advantages of cancer treatment with immunotherapy are that the side effects are less aggressive and evident. "Immunotherapy also has side effects, but it does not cause hair loss, nor does it leave patients seriously weakened," Dr. Cruz notes.
Biological therapy available at Hospital de Loulé
"Biological therapy is a targeted therapy that acts on key components of the tumour cell, and can be received orally or intravenously, depending on the clinical case," explains André Cruz, consultant cancer specialist at Hospital de Loulé. Here he works with patients throughout various phases: prevention, diagnosis, treatment strategy and post-treatment care. "At Hospital de Loulé, the therapeutic approach to cancer patients is multidisciplinary, involving doctors with different specialities whenever necessary," Dr. Cruz stresses.
Cancer is one of the leading causes of death alongside cardiovascular diseases. "Prevention – through health lifestyles – and early detection are the best way to reduce the high mortality rates associated with cancer," recalls the Hospital de Loulé specialist.